I've had the privilege of reviewing some of the world's best content while being on the judging panel for marketing awards including The Canadian Marketing Awards, National Magazine Awards, and the international Pearl Custom content Awards out of NYC.
While reviewing the work, not only am I completely inspired creatively as a judge, but I've also been able to gain insight to the sharpest creative minds and best campaigns. Submission categories have included content, digital campaigns, product launches  new platforms, and partnerships to design layouts. 
So, what makes the campaign winners stand out as campaign award winners?
Here's what I've learnt from the leaders:
Why are you creating content and this marketing campaign – what are your goals? Yes, of course your brand wants to increase your product sales and revenue, but to do this, what does your audience need? And what can you do to serve them?
What is your audience getting out of viewing your video, reading your blog, engaging in your social, or clicking on your digital ad? Have you addressed their concerns, needs, and desires? Is your campaign fun or surprising? Your team will determine what the payoff direction is – but remember, it's about your audience, not you.
But first, discovery. Who is your audience?
Get to know your audience and audience groups. Go beyond their spending, their age, and their address.
What do they care about?
What bugs them?
What are they curious about?
What solutions are they looking for, solutions that they may not even know they need?
Although we are more digital than ever, make your approach human.  
Business Impact Award with Canadian Marketing Awards – Timbiebs.
The partnership between Justin Beiber and Tim Hortons picked up awards for "TimBiebs". Tim Hortons has struggled to attract a younger crowd in the past. TimBiebs partnership with Tim Horton's led to a 10.3% increase in sales in the fourth quarter of 2021. "unprecedented social engagement" and an increased appeal with young people.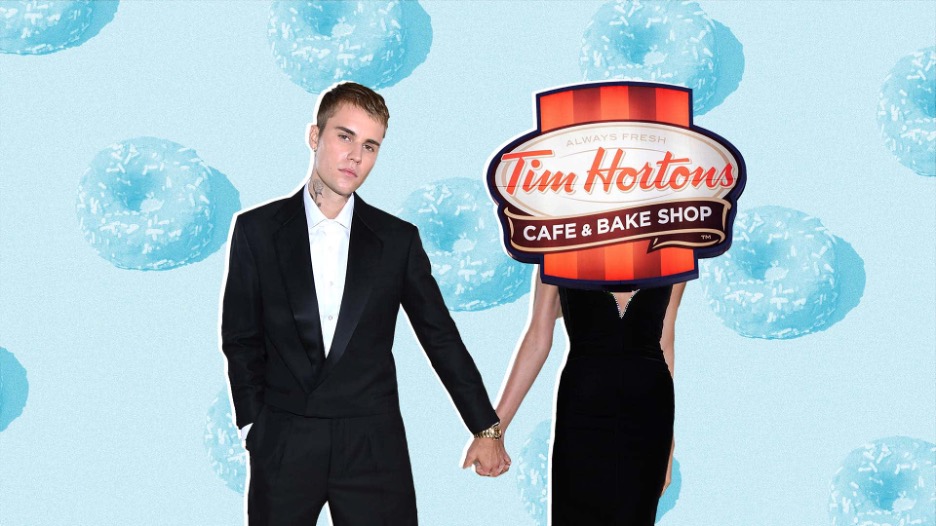 Covid served the ultimate marketing test. An unwanted, never-seen-before global shut down. Many brands nailed it – quickly pivoting their marketing efforts and sharing the right messaging at the right time. They offered solutions and hit the right emotional cord. Shifting to the "new normal" or content that supported optimism or their community.
Heineken shifted to "We're further apart. Yet, we're closer than ever." In contrast, many failed to shift ad buys. For example, Cornona Hard Seltzer continued their launch plans and promoted bringing the new drink to crowded beach parties "Find your beach" (known at the time as "super spreaders").
Example:
Leveraging a re-emerged pastime during Covid: puzzles. Heinz gained 1.25 billion EARNED impressions globally with their Heinz slowest puzzle. The objective was to reignite an emotional connection in a culturally relevant way to bolster consumer loyalty.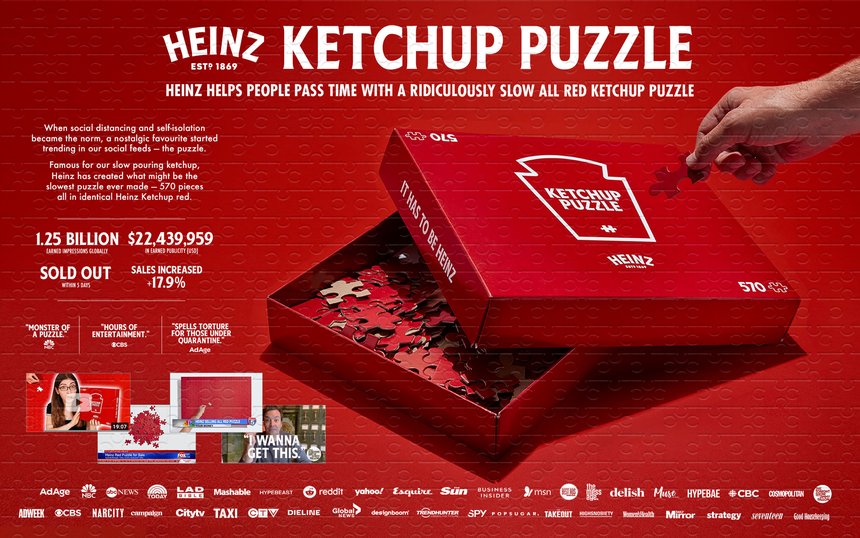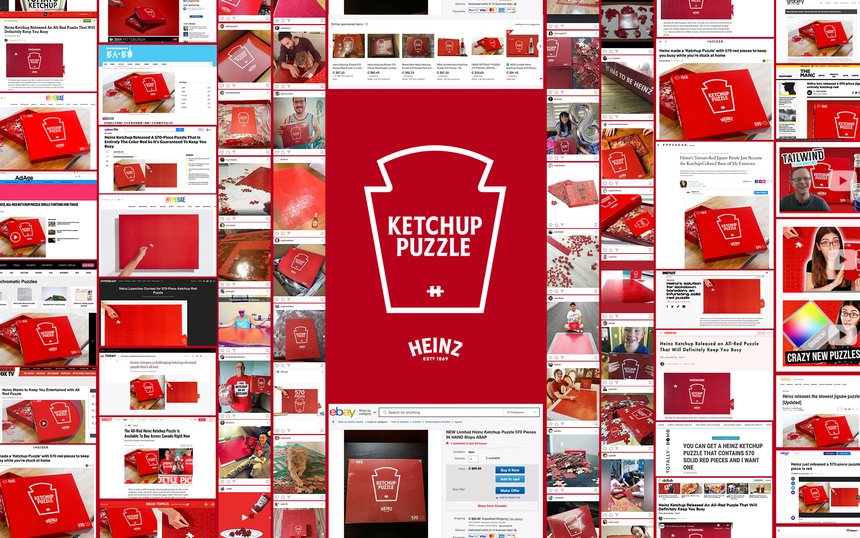 Your audience wants relevant, timely content that will speak to them in the moment. Again, consider the pandemic: timely content about things like staying connected to friends virtually or adjusting to working from home allowed brands to meet readers' needs. Content that didn't acknowledge the pandemic could even seem insensitive. And if you're too late or off trend, your audience will reply with an eye roll.
Outside of the Covid time example, what unique new needs does your audience have? Parents, students, seniors, small business owners, Gen Z.
Timely is essential but trending or leveraging pop-culture is another haystack to analyze. Outdated content will come across as unauthentic. And hitting trends at the right time is competitive, and risky. Depending on the topic, trending terms can be highly competitive to rank for and it might not be worth the short-lasting reward – if you even get the reward. The award winners I have seen are innovative, leveraging emerging platforms or tech, over simply following a trend.
Your Laser-Focused Challenge.
What are you offering, to who, and at what time? This will determine your challenge – who needs what, when. That precise, laser-focused challenge will set the foundation for your campaign strategy … and your upcoming campaign solution.
What's our short-term goal that will contribute to our long-term goal?
How will we know when we've reached this goal successfully?
How can we target and segment our audiences to reach this goal?
What inspiring message can we send to each audience?
What channels will best communicate this message to each audience?


Innovative campaign ideas are not always born from sudden epiphanies, but instead they can take time and teams to strategize, plan and evolve, but come together as a result of great talent, professional commitment, and experience.
Create Targeted Messaging.
The average person can see up to 40,000 advertising messages in a day. So, to say you're fighting for attention would be an understatement. So what can you use to get someone's attention?
When I was working with L'Oréal Canada for many years while at Rogers Media, every campaign launch included our challenge "to do something that no one has ever done before".
With new innovative ways to research data, use emerging platforms or technology – there are many ways to be first.
Example:
Customer Experience Canadian Marketing Award 2022
Oh Henry! Level Up – Turning Chocolate Into Digital Currency Bronze
Agency: UM, Anomaly, Twitch
Targeting younger customers Oh Henry linked up with livestreaming service Twitch. With every purchase of an Oh Henry! Level Up bar, consumers can receive Bits, a virtual currency that's used by Twitch viewers to support streamers and get access to special features on the platform.

The most important aspect of your marketing content is what it tells your audience. But a close second is how you tell it. The award winners all had something unexpected – unique inspirations, surprising stories.
How can you tell your story in a different way?
Example
Canadian Marketing Awards 2022 / Innovative Gold winner Heinz Hot Dog Pact / Rethink
For decades people have been frustrated that hot dog wieners are sold in packs of 10 while buns are sold in packs of 8. The solution? The Heinz Hot Dog Pact: a petition that urged wiener and bun companies to sell even packs. And it worked! Wonder joined the Pact and this summer released the first ever 10-pack of buns. 10 wieners. 10 buns. Finally.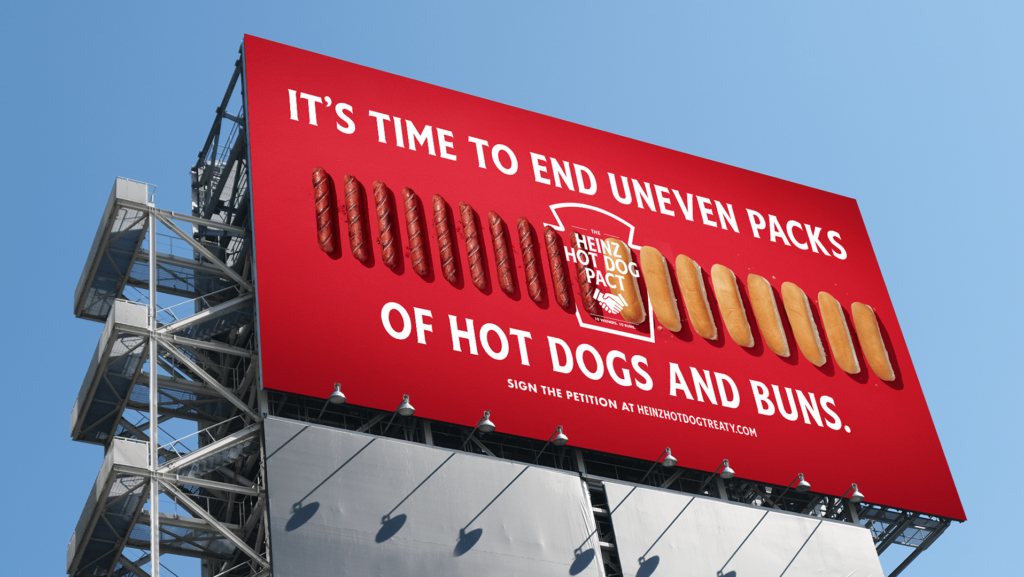 People see brands that hop onto trends and especially if you're late to get on the bandwagon, people will see it as fluff and trying too hard. It goes back to knowing your audience, and offering creative that is relevant, believable and offers unique storytelling.
To produce truly exceptional content, you've got to get to the heart of an issue, ideally unearthing something that's never been covered before.
Go Beyond the Call of Duty.
Winners showcase striking creative. Further ensuring your brand is authentic, winning brands include original photography, or unique custom illustrators. They would never use stock photography – that any brand has access to.
And the words that bring it all together – clever, funny, quick.
Plan Integrated, Multi-Channel Marketing.
Where will you reach your audience? You need to have all the channels working together for maximum effectiveness.
Be unique and innovative to stand out but target the right customer, your hero, at the right time and place.
Results should show success.
How did your campaign increase sales and accelerate your brand growth?
Results should circle back to your original goal – did you attract a new audience or increase customer retention?
What customer experience can be shared? Amazing comments? How did your campaign reach your audience, over and above numbers?

Results need to go well beyond earned media. Organic impressions, engagement, sharing, saving really prove success and will share if the campaign caught attention and was relevant to your customers.  
As a recession looms, customer confidence is at a record low, buzz worthy campaigns and earned media will be more important than ever.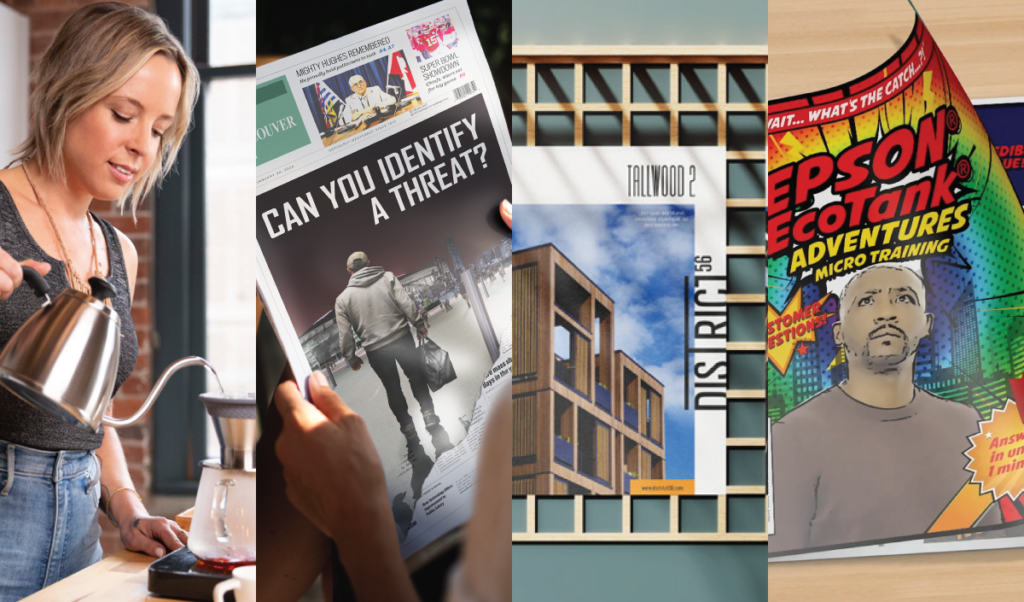 See some of Blink's award-winning work – visit our blog.