eCommerce in 2020.
There are no words needed to describe how the world was hit by the global pandemic but out of bad things come good things.
Businesses needed to shift or shut. Many business out of necessity adapted in order to survive and for the majority of businesses this meant going online and offering a connection to their customers that they could no longer meet in person. It was possibly the proverbial kick up the back side that some business needed.
Sales boomed in 2020
"Ecommerce penetration in the US grew by 10 years in a 90 day period in 2020, reaching about 33%" *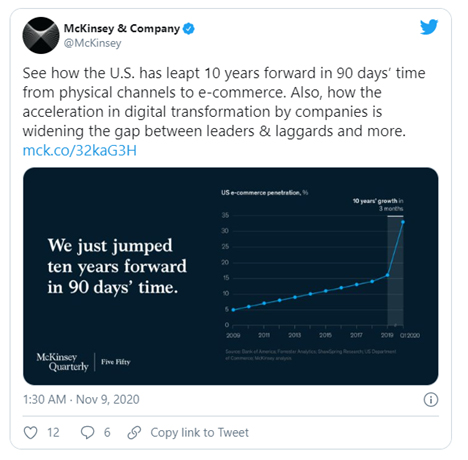 With the inability to spend money face to face, customers turned to the Internet in masses. Business tools that most of us had never heard of became part of everyday language (Zoom, Teams etc) and businesses that we had heard of went out of business.
Consumers spent $861.12 billion online with U.S. retailers in 2020, up 44.0% from $598.02 billion in 2019, according to the latest Digital Commerce 360 analysis. Online spending represented 21.3% of total retail sales last year, compared with 15.8%  the year prior *.
The Customer Journey was changing.
Brands quickly realised that work need to be completed to retain current customers and attract new.
That's where the brands that have a true omnichannel experience, with well thought through and serviced customer experience are winning. This all starts by putting the customer at the centre of any thinking (Human centred design). This is important as it realigns the brand back to what is important, the customer. What is the customer journey in the current state and what should be the customer journey in a future improved state?
Working this out is hard but it starts with DISCOVERY 
what is important?
where are the gaps in service?
what customer touch points are working?
 which are not etc?
 Once this is done you can start to DEFINE the offering, whether it is a new website hooked up to curbside pick up, text reminders, email flows or old fashioned telephone calls. Build out the solution and launch to the world.

Your customers will still find faults and that is why the service should always be living, allowing brands to adapt in an agile fashion to react to the changing needs.
Curbside pick up was born (or matured)
With stores in lockdown, many turned to curbside pickup to keep both the staff and customers safe. Whilst this omnichannel trend has been on the rise for a couple of years, the sharp increase in 2020 brought it to maturity.  Curbside pickup became another saying for 2020 and for online stores the pandemic highlight the service and helped it become part on online shopping habits. For the consumer it meant no long lines to get into the store. Just rock up, ring a number and the product(s) is brought right to you car.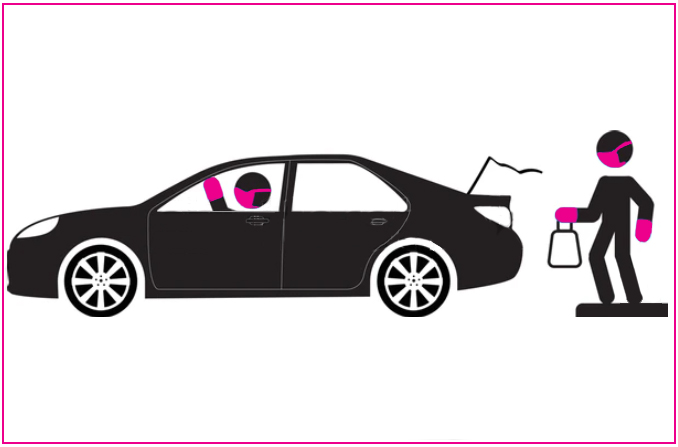 Eddyline Kayaks (a Blink client) sell the vast majority of their Kayaks through speciality outdorr and watersport retailers. When these stores closed their doors in March 2020 many thought it would be a very tough year. However, the pandemic increased the public's desire to get outside and away from other people. This meant venturing into the outdoors. What better way to socially distance each other than sitting in a kayak with a paddle floating on the water – PERFECT.
The closed stores started to offer curbside pickups, and stocks of kayaks ran dry vary quickly. This industry had just figured out how to pivot to online.  
 

Habits have changed for good
Some customers will probably stick to their new purchasing behaviour with many being more comfortable with 'online and digital tech' post pandemic. Customers worldwide are buying items rarely purchased online before. Online innovation, like augmented reality, is allowing online consumers to experience the products without being physically there.
(The engineering of a virtual paddling simulator may yet to come to Eddyline Kayak customers!)
Does this impact you?
Many brands are not equipped to compete on customer experience which is was of the largest differentiators online. Brands that are truly able to marry a strong real world customer experience in with an online experience (seamlessly) are the brands that will stand out and survive.
The competition is larger and stronger and brands will need to capitalise and optimise commerce across multiple channels, social media, retail and wholesale. This means that technology must be the foundation that will link the brand experiences to the customers. It doesn't matter whether it is offline or online as the customer will flop backwards and forwards between the two.
* https://www.mckinsey.com/about-us/covid-response-center/leadership-mindsets/webinars/five-priorities-for-rapid-revenue-recovery-during-covid-19#
How can Blink help you? 
Please get in touch.
We like to listen to and then solve problems