The Challenge
Ocean's Seafood reimagined the category of canned tuna by eliminating its most defining feature: the can!
With their new flavoured tuna pouches, they saw an opportunity to redefine their place in the market and energize their audience with an exciting new way to take tuna with them on the go.
Blink's challenge was to launch a campaign to help drive awareness, trial, and ultimately sales. The defined goals for the campaign were set in context of the existing canned tuna category, with three KPIs: awareness, consideration, and acquisition.
The Blink Solution: Tear Into Taste
The multi-channel strategy focused on connecting this unconventional product with the audience in an area where brand differentiation is difficult, and packaging has remained relatively unchanged for over 100 years.
With market research showing that taste is the key driving factor for motivating trial and acquisition, we began with that as the cornerstone of our creative strategy.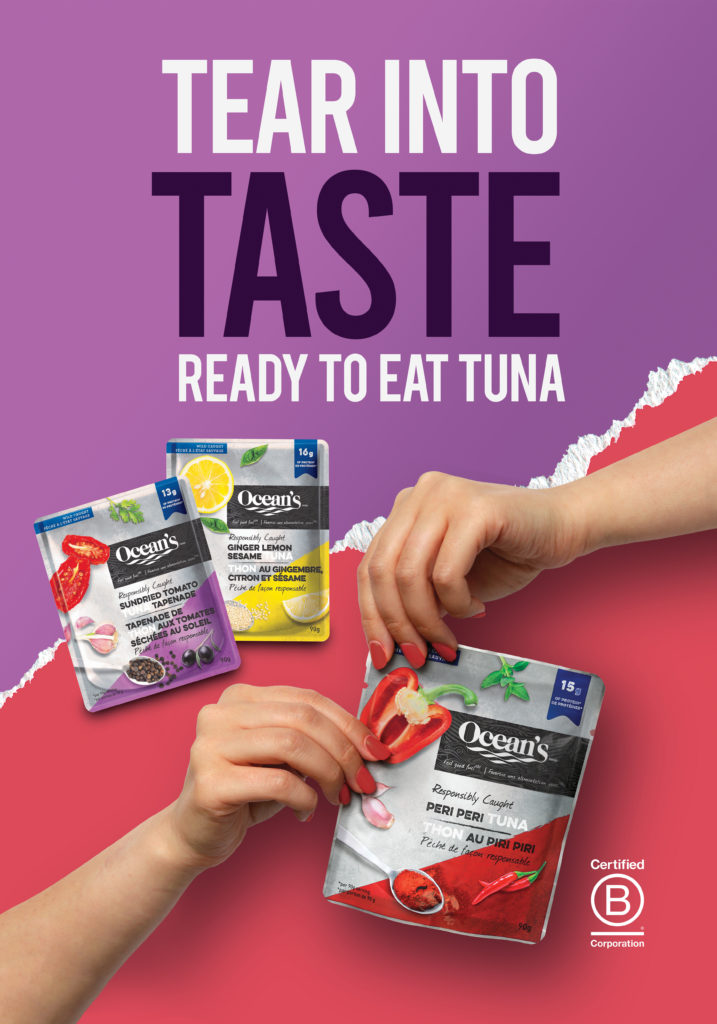 The exciting new taste profiles in these three SKUs allowed us to have three unique approaches to our creativity, connecting each flavour with a distinct look and feel, attempting to reach a much broader audience that was possible in previous campaigns.

The unique packaging, a pouch with flavoured tuna, is lower friction for the consumer as it does not require a can opener, more portable as it is light and malleable, and contains a serving size perfect for a snack or for partnering with various pairings.
We chose bright, bold, photography with energetic copy to arrest the attention of our audience, using fun and dynamic poses to connect the product with the new possibilities it introduced. The core target market included both genders, with a focus on reaching a young to middle aged audience, appealing to their taste buds and their sense of adventure in trying this new product.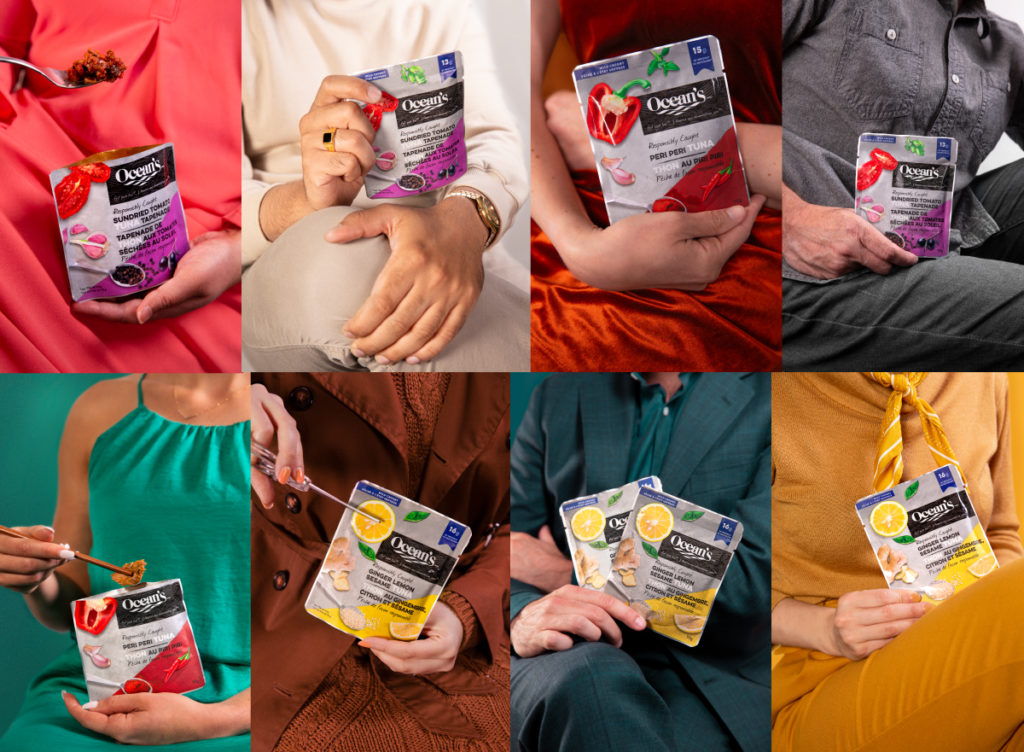 The campaign was everywhere and the creative was adapted for each platform – where you work, where you grocery shop, where you take the bus, in your car on the radio and on your social media.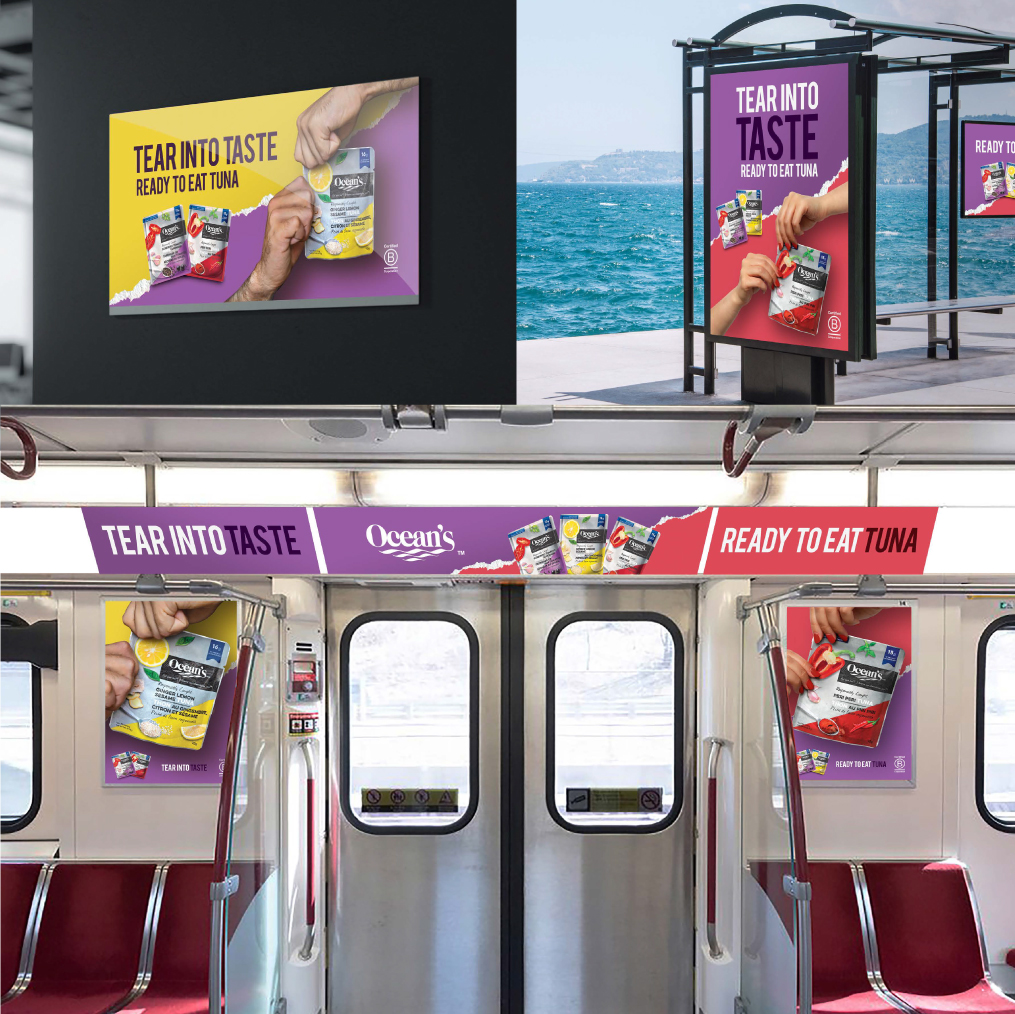 Results
The campaign was an unmitigated success across the board on all metrics. Our three core KPIs were awareness, consideration, and acquisition. Data derived from the client showed that targets were not only met but exceeded by an incredible margin.
Total impressions for the campaign, with a target of 3.0M, surpassed 5.0M.
The total Reach target was set at 1.2M, with a result of 2.0M.
Overall awareness targets were met and exceeded to 150%, consideration to 140%, and acquisition to 135%.
In one particularly successful market, trial more than doubled targets, a metric that was celebrated by the client as one of the best they had ever experienced.